Happy Easter!
Happy Easter!
1 April 2022 (by Beverley ATKINS (batkins))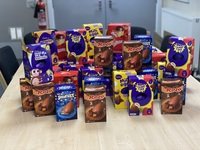 We wish you all a very Happy Easter!
We would like to give a special "Thank You" to the Manager at One Stop Stores @Whingate for their incredibly generous donation of 44 Easter eggs to our school!
These were awarded to our Star Workers of the Week and one lucky child from each class was picked at random to also receive an egg!
We hope you all have a relaxing break and we will see you all back to school on Tuesday 19th April