Year 4 Meet Famous Faces!
Year 4 Meet Famous Faces!
7 July 2017 (by hpercival)
Year 4 had a great time at the Leeds Rhinos tag rugby event!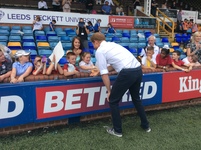 On Thursday 6th July, members of Year 4 attended an event celebrating Tag Rugby at Headingley stadium. Our team performed really well and lots of their classmates came along to cheer them on. While they were there, they were lucky enough to meet Prince Harry and several famous faces from the world of Rugby League! It was an excellent day.